Outline
Center for Regional Community, Kitami Institute of Technology
Kitami Institute of Technology has been promoting industry-academia-government collaboration in order to improve "Community Collaboration & Community Service" and "Promoting Joint Research & Supporting Research" by cooperating in many ways with other institutes outside of the academia. Our center was founded in 1992 with the goal of contributing to the community through our industry-academia-government collaboration work. Please use our center for studies that will improve industry-academia-government collaboration.
Main Business
joint or commissioned research with the private sector.
practice, cooperation and help of high technology education for technician of the private sector.
scientific and technical consultation.
accomplishing the purposes of CRC, such as holding special lecture meetings, workshops, symposia and other such activities as appropriate.
("The private sector" means private companies, local governments, quasi-governmental special juridical bodies, non-profit organizations etc., excluding national organizations, private individual researchers etc.)
System for promoting industry-academia-government collaboration
Collaboration Research System
What is collaborative research?
Collaborative partners bear the expenses of research funds, and do research together with partner researchers or engineers and the institute.
Collaborative research partners
Any researchers and any research institutions in any location that need the institute's technological expertise or research results can join our collaborative research programs.
Collaboration Research Expenses
This expense should include travelling expenses, equipment, supplies, labor costs and research supporters at KIT. We discuss that with research-partners to decide the total expense.
Expenses for Specially-Sent Researchers or Engineers
It costs 420,000 yen per person for one year to have special researchers or engineers from private institutions. We discuss that with research-partners to make decisions.
We sometimes bear part of the research expenses.
Research contracts could be for more than one year, in which case expense payments are needed every year.
Management expense is 30% of the research expense. In addition to the research expense, management expense must be paid. We discuss that with research-partners to make decisions.
Collaboration Research Scheme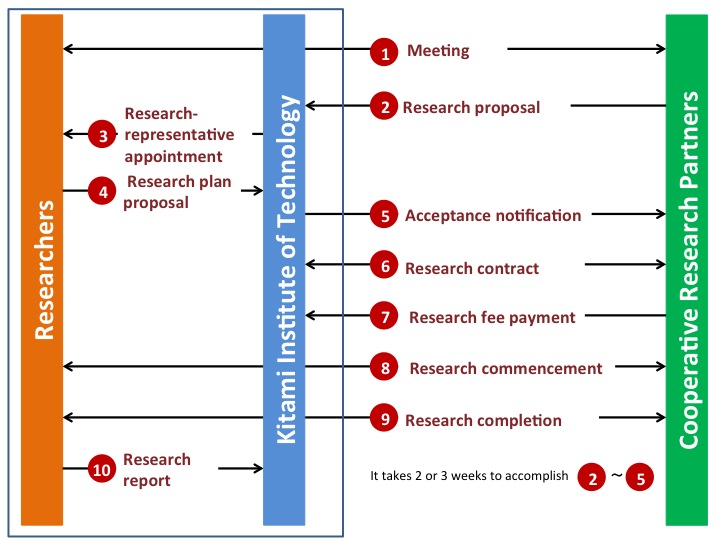 Other system and services
Commissioned Research System
Scientific researchers in universities are commissioned by industrial firms, government research institute, local governments or other outside organizations to carry out research by contract.
Commissioned Researchers System
Kitami Institute of Technology accept technicians and researchers currently employed in private industry and other outside agencies. They are given guidance in doing research at the graduate level, which helps them to improve their abilities all the more.
Grants and Endowments System
Kitami Institute of Technology accept donations from both private organizations and individuals to support scientific research and educational activities. (Endowments are given tax exemption.)
Contact information
Center for Regional Community, Kitami Institute of Technology
603-2 Hakuyo-cho, Kitami, Hokkaido 090-0013
TEL: 0157-26-4161
FAX: 0157-26-4171
Email: chiiki*desk.kitami-it.ac.jp
★ To prevent e-mail spam we use "*" (asterix) instead of "@". For sending emails, please replace the "*" (asterix) with "@".